What would life be without airplanes?
Today, aviation touches nearly every aspect of our daily lives. It's not just about business and vacation travel; it's about international mail delivery, overnight couriers, food and supply delivery to remote communities. It enables business and world trade to exist. It's about national defence, and global security and peacekeeping. It's about saving lives through medevacs, air ambulance services, search and rescue missions, and international organ donation programs. Aviation is an integral part of our society, and there is a growing need for qualified people in the industry.
Download a copy of Careers in Aviation & Aerospace for further information on the rewarding and unique careers that the aviation and aerospace industry has to offer.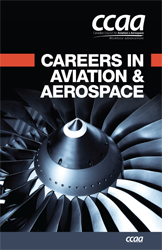 Que serait la vie sans les aéronefs?
Aujourd'hui, l'aviation touche pratiquement tous les aspects de notre vie quotidienne. Ce n'est pas seulement un moyen de transport pour les affaires et les vacances; c'est beaucoup plus : livraison internationale du courrier, livraison d'un colis le jour suivant, envoi de nourriture et de ravitaillements à nos collectivités isolées. Elle permet aux entreprises d'exister et au commerce mondial de fleurir. Elle touche aussi la défense nationale et la sécurité internationale, ainsi que le maintien de la paix dans le monde. Elle permet de sauver des vies par des évacuations sanitaires, des services d'ambulances aériennes, des missions de recherche et sauvetage, et le transport d'organes. L'aviation fait partie intégrante de notre société et il existe un besoin croissant de personnel qualifié dans cette industrie.